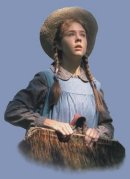 <! ------------------ End Menu -------------------- >

<! ------------------ Start Main -------------------- >
Jonathan Crombie
Biography:
Jonathan David Crombie was born on October 12, 1966 in Toronto, Canada, a brother for his two older sisters. His father is ex-mayor of Toronto, David Crombie, and his mother's name, Shirley Ann, was perhaps prophetic of the role that was to begin his career. As a child he not only grew up in the political spotlight, but was weaned on Hank Williams and old musicals, recalling that he used to dance around the living room, dreaming that he would be the next Fred Astaire or Gene Kelly. Jonathan never intended on being a professional actor but was spotted in a high school production of The Wizard of Oz by casting director Diane Polley, late mother to Road To Avonlea's Sarah Polley. She advised for his casting in both Judgement In Stone as well as in the role of Gilbert Blythe in Anne Of Green Gables. Needless to say, he won both roles, but it is the role of Gilbert that he is best known, and perhaps the role for which he is best loved. Jonathan, who is know by friends to be a board game aficionado, graduated from University of Toronto's Victoria College in 1995.


In The Waiting Game, 1998.
Film/Television Credits:
Anne of Green Gables: The Continuing Story (1999) (TV) .... Gilbert Blythe

Waiting Game, The (1998) (TV) .... Matt

"Power Play" (1998) TV Series .... Hudson James (1999-2000)

Good Fight, The (1992) (TV) .... Matt Craig

Cafe Romeo (1992) .... Bennie

Bottega dell'orefice, La (1988) .... Christophe
... aka Jeweller's Shop, The (1988) (US title)

"Mount Royal" (1987) TV Series .... Rob Valeur
... aka "Mont-Royal" (1989) (Canada: French title) (France)

Anne of Avonlea (1987) (TV) .... Gilbert Blythe
... aka Anne of Green Gables: The Sequel (1987) (TV)

Bullies (1986) .... Matt Morris

Day They Came to Arrest the Book, The (1986) (TV) .... Barney Roth

Judgment in Stone, A (1986) .... Bobby Coverdale
... aka Housekeeper, The (1986)

Anne of Green Gables (1985) (TV) .... Gilbert Blythe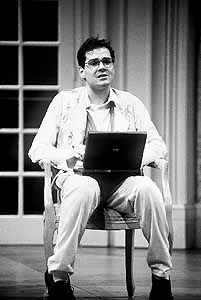 As Valentine in Arcadia, 1996.
Television Guest Appearances:
"Power Play" (1999) playing "Hudson James" in episode: "The Finals" and others 1999

"Matrix" (1993) playing "Cumberland" in episode: "The Courage of His Convictions" 1993

"21 Jump Street" (1987) playing "Bill Howard" in episode: "The Education of Terry Carver" (episode # 5.12) 1/14/1991

"Road to Avonlea" (1990) playing "Gilbert Blythe" in episode: "Old Friends, Old Wounds" 1991

"Hitchhiker" (1986) playing "Billy Bolt" in episode: "Coach" (episode # 4.6) 1989

"Alfred Hitchcock Presents" (1955) playing "Rick Garrison" in episode: "Fogbound" 1988

"Campbells, The" (1988) playing "Kevin Sims" in episode: "The Face of a Stranger" 1987



As Romeo in Romeo and Juliet, 1997.

More from Romeo and Juliet.
Other Work:
Member of comedy troupe "Skippy's Rangers"- (1996)

TV special "Comedy Now!: Skippy's Rangers: The Show They Never Gave (1997)

Member of Stratford's Festival Theatre in Ontario, Canada (1994-1999).

Speed in The Two Gentlemen of Verona (1998)

Vepichodov in The Cherry Orchard (1998)

Romeo in Romeo and Juliet (1997)

Lucentio in The Taming of the Shrew (1997)

Write to Jonathan:
c/o Oscars, Abrams & Zimel Inc.
438 Queen Street East
Toronto, Ontario M5A 1T4
Canada
Related Websites:
Jonathan Crombie's World
Most information provided by The Internet Movie Database.
Some photos supplied courtesy of <! href=http://www.wowsites.com/jonathancrombie/ target=_new>The Homepage to Jonathan Crombie.

---
<! ------------------ End Main -------------------- >